The Bamboo Inn - History, Business Philosophy, and Practices
John Romain's memoir
The Road to Eden  - The Journey Home
is now available.  For more information please visit,
roadtoedenbook.com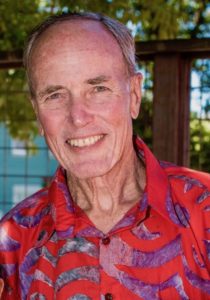 Ancient History
Fronting Waikoloa shore on Hana Bay, the Bamboo Inn is located on a complex of historic sites that identify the 'aina (land) as long being a place of cultural usage and spiritual reverence. A prominent cultural historian and practitioner has suggested that the area, with proximity to shelter caves and a natural fresh water spring, was likely settled during the earliest migrations from Tahiti and the Marquises  The immediate area, known as Kawaipapa, was once home to Queen Ka'ahumanu, who spent her early childhood in the district before her family moved to the Island of Hawaii when she was eleven.
Contemporary Era
The site where the Bamboo Inn now resides began use as an overnight rental property in the early 1970s when the storied Heavenly Hana Inn offered the modest bungalow that occupied the aina as their auxiliary Beach Cottage.
In the late 1980s, ownership of the Heavenly Hana Inn changed hands; sale of the beach cottage, however, was not included in the purchase.  In March, 1997, heirs to the beach property sold the land to Hale Malamalama Ltd., a partnership between myself and Patricia Steele.
Patricia and I already owned and operated the adjacent overnight rental business known as Hale Malamalama and were actively considering expanding our operations when the former Heavenly Hana Inn property became available.  It was a perfect fit for our our existing operation and I had my eye on the beach cottage for years.  Designing and building the Bamboo Inn became a labor of love.
Drawing on ten years experience developing and operating Hale Malamalama, the Bamboo Inn was designed from the beginning for functional efficiency: a light footprint on the land, space utilization, and an alignment to the natural landscape with simple elegance of design utilizing bamboo and other indigenous building materials and techniques wherever possible.
After completing drawings for the two-story bamboo inn structure as well as restoration and expansion of the existing cottage, Patricia and I traveled to Bali and, with the assistance of a well-regarded Balinese architect, purchased an array of building and finishing materials from coconut flooring to carved wooden doors, along with prefabricated architectural pieces to facilitate onsite construction.  The assembled items along with a selection of furniture were loaded into a container and shipped to Maui in summer of 1998.
The Bamboo Inn opened to overnight guests in late January, 1999, operating in conjunction with Hale Malamalama as a single entity.  Ten years later, I retired from managing Hale Malamalama, to focus my attention exclusively on operation of the Bamboo Inn.
Ongoing renovations and refurbishing have kept the inn current in style, function, and form.
Mission Statement
"To provide overnight guests with a quality experience in a sustainable manner that is environmentally responsible, supportive of the community, and respectful of native Hawaiian cultural protocol and practices".
Environmental Responsibility
All southern facing roofs are covered with the maximum allowable number of photovoltaic panels.  The panels are grid-tied and we generally are a net energy producer (including e-vehicle charging) during the summer months and produce about 80 % of our energy during the winter months.   Additionally, the inn uses solar water panels with back up electrical water heaters.  Overall, we produce more than 90% of our energy passively, on-site, directly from the sun.
All suites have recycle receptors and we actively encourage our guests to recycle as much as possible.  We use only non-toxic environmentally friendly housekeeping supplies.
In 2016, the Bamboo Inn joined 1% For The Environment committing 1% of gross income to support the environment.
Community Support
As a revenue producing source, we believe it our responsibility to spread our financial gains within the community.  We support local merchants be they markets or fruit stands for much of our morning breakfast  and daily supplies.  We encourage our guests to do so as well and shop locally rather than bringing in food supplies often in non-recyclable styrofoam coolers.
We hire locally and treat our employees as family, recognizing that they are the bedrock of our business.  
We are regular contributors to local non-profits and fundraisers, often offering accommodations to support local events or activities.  Altogether, we are committed to allocating another 1% of our gross income to the Hana community.
Respect for Hawaiian Culture
The immediate area surrounding the Bamboo Inn is rich with historic sites, legends, and local lore.  As Hawaiian tradition considered natural terrain and topography rather than property lines a means of defining territory, the area around the Bamboo Inn remains free of fences or walls. Since settling in the area in 1986, I have worked with neighboring property owners in assuring that our respective properties and historic sites remain open and accessible for cultural practice.  
In keeping with Hawaiian tradition, the aina was blessed in April, 1998, prior to construction by cultural practitioner Kaniela Akaka of the Big Island of Hawaii, and again at the completion luau in March, 1999 by Hawaiian historian and practitioner Sam Kaai.  
Many years ago when local resident and minister Uncle Mathew Kalalau blessed the neighboring property that  became Hale Malamalama, he took me aside to say, "You cannot own this land—it was here long before you and will be here long after you.  This aina is so special that you must each day say a prayer of gratitude for the privilege of presiding over it."  The wisdom of Mathew's words guide me to this day.