Bamboo Inn offers three oceanfront accommodations—each with an exquisite view
looking across Hāna Bay toward the Waikoloa peninsula, the easternmost point on Maui.
All Suites include coffee makers with complementary coffee. 

Free wifi access is available in all suites and courtyard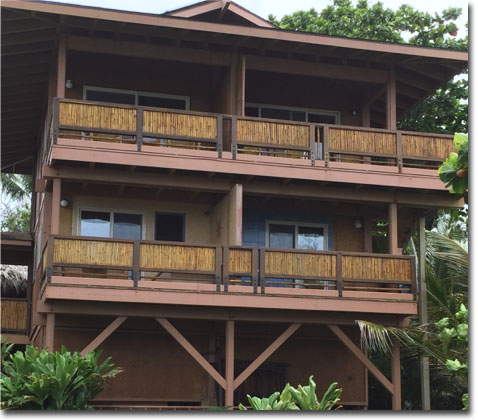 The Bamboo Inn features two oceanfront studios (right hand side) that can accommodate up to two guests each, and a two-story oceanfront one-bedroom suite (left hand side), that can accommodate up to four guests.
The upstairs studio and the one bedroom suite can be combined for parties of up to six guests.

Nai'a Suite
The two story Nai'a Suite includes a first floor living room with a fold-out queen size sofa couch, kitchen, dining area and an oceanfront deck with a private jacuzzi.
Rate: $305/night for 2 guests (up to two additional guests can be added at $15/night per guest)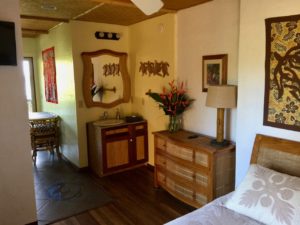 Honu Suite
The first floor Honu Suite features a queen size bed, kitchenette and a two person jacuzzi tub on the deck overlooking the ocean. The suite also includes a private outdoor shower.
Rate: $225/night (2 person maximum)
---
State excise and room tax in the amount of 14.42% will be added to room rates. A 50% (100% for single night reservations when allowed) deposit is required when a reservation is made 30 days or less prior to arrival.  Reservations made more than 30 in advance will be held without a deposit until 30 days prior to arrival at which time a 50% deposit will automatically be charged to your card.  The remaining balance is due upon check-in. Refunds for cancellations made less than 30 days prior to arrival will be issued only if we are able to rebook the cancelled space to another party.